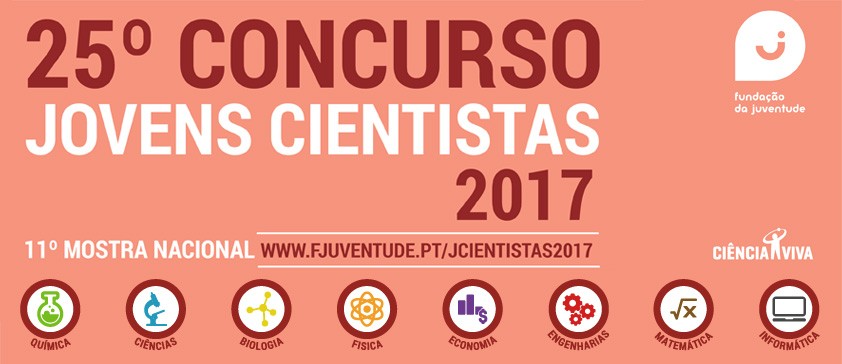 The application period for the 25 th edition of the Young Scientists Competition are now open until the 21 st of April. More than €5,000 in prizes can be won for the best projects, as well as the opportunity to participate in international competitions for research in the most varied areas of study, such as: Biology, Earth Sciences, Environmental Sciences, Medical Sciences, Social Sciences, Economics, Engineering, Physics, IT/Computer Science, Mathematics, Chemistry, and Bioeconomics.

Participation in the 25 th Young Scientists Competition is intended for junior, high, or first year university students, aged between 15 and 20 years. Competitors should submit an innovative scientific project that was completed before entering university.

This edition is organized by the Fundação da Juventude (Youth Foundation), in collaboration with Ciência Viva – National Agency for Scientific and Technological Culture. The competition aims to promote the ideals of cooperation and exchange between young scientists and researchers, stimulating the emergence of young talents in the areas of Science, Technology, Research, and Innovation.

The evaluation and selection of the research projects is carried out by a Jury which is designated by Ciência Viva – National Agency for Scientific and Technological Culture, comprised of professors and researchers of recognised merit from the different scientific areas involved, as well as representatives of the Youth Foundation, Science Viva, and the Portuguese Environment Agency.

The competition is promoted by the Youth Foundation, with the support of the EDP Foundation, the Luso-American Development Foundation, Astrazeneca, Porto Editora, Lipor, and Intel. The objective is to encourage a competitive spirit among young people through carrying out innovative scientific projects.

The research projects must be submitted by the must be done by the 21stof April, using the form available atwww.fjuventude.pt/jcientistas2017and the sshortlisted projects will be divulged during the month of May on the competition's website, and they will then be presented at the 11th'Mostra de Ciência' event, from June 1-3, 2017, at the Centro de Congressos da Alfândega, in Oporto.