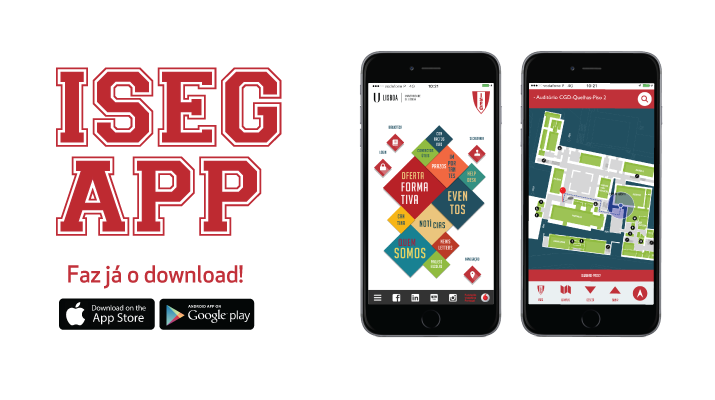 ISEG and the Vodafone Foundation have created an application for communication between Students, Teachers, and the Administrative Services
ISEG – Lisbon School of Economics and Management and the Vodafone Foundation have just launched a free application which provides real-time communication and shortens the distance between students, professors, and the School administrative services.
A pioneering initiative in Portugal, this App provides the map of ISEG's facilities, enabling a guided tour of the University campus, both between buildings and inside them, showing students the best path to follow, be it to the lecture rooms, auditoriums, the canteen, ATM machine or to the library.
The new App also enables the consultation of course contents, classifications and final grades, deadlines for assignments, lecture timetables, students' current accounts, the availability of books in the library, the canteen menu, parking availability, real-time declarations, and even the reception of reminders of important deadlines that have to be met.
Available in both iOS and Android, this bilingual application aims to contribute to improving the relationship and approximation of students with the School, to facilitating the integration of new students, especially foreign students, and to optimise communication flows.
With approximately 5,000 students from more than 50 nationalities, who are enrolled in 7 degrees, 20 Master's degrees, 8 PhD programmes, 28 Postgraduate courses, one MBA, and several short courses, in partnership with the Vodafone Foundation, ISEG thus seeks to facilitate life and improve the level of satisfaction and motivation amongst its students and the entire School body, whilst also enhancing the technological dimension within the University.
It needs to be pointed out that the Vodafone Foundation is a key instrument in developing the company's Corporate Social Responsibility strategy, paying particular attention to partnerships and projects in the area of Education, being orientated towards young people, as is the case of this new ISEG App.
About the Vodafone Foundation
In a challenging economic and social context, the Vodafone Portugal Foundation has adjusted its priority areas of action, adapting to the evolution of the community in which it operates. In Education, among other initiatives developed, an example is the Design The Future platform, which was designed to support the young in their vocational exploration, with more than 150 videos and reports on diverse professions and educational options.
About ISEG
ISEG is part of Universidade de Lisboa, the best-positioned Portuguese university in international rankings, being 160 th in the Academic Ranking of World Universities – 2016. Founded 105 years ago, ISEG is the School with the highest volume of scientific production in Portugal in the areas of Management, Economics and Applied Mathematics for Economics and Management. Currently, it has 243 professors, of whom 80% have a PhD. The ISEG campus is located in Lisbon, near the Portuguese Parliament building (www.iseg.ulisboa.pt).