ISEG has just become the Vice-Champion for the EMEA Region (Europe, Middle East, Africa) in the final of the CFA Challenge, the world's largest competition for Finance students. For the second consecutive year, ISEG is the only Portuguese school to reach this stage in this internationally-renowned competition. The students of the Masters in Finance of ISEG – Lisbon School of Economics and Management were classified among the four best teams in Europe, and, consequently, are in the Top 20 of the World for the CFA Challenge.

The ISEG team represented Portugal in the European final in Zurich, after winning the 2019 national competition, just as it did in 2018 and 2017. ISEG is the only Portuguese school to reach the top in the regional finals, both in 2019 and in 2018. In this edition, only 20 Business Schools worldwide made it through to the regional finals, in a competition involving around 1,200 schools, with more than 5,000 Finance students from all around the world.

"Once again, ISEG won the competition from among all the other Masters in Finance degrees in Portugal, qualifying to represent the country in the regional final of this important world competition. Under the guidance of Professor Victor Barros, our students made us proud for the way they demonstrated the quality of our very thorough and demanding education, both from the technical point-of-view, and also for the capacity for forecasting and the ability to work as a team and develop their personal skills", stated Clara Raposo, the Dean of ISEG. "It is these impartial and independent initiatives that demonstrate how ISEG students excel and differentiate themselves by their excellence in terms of both practical knowledge and soft skills", added Clara Raposo.

The CFA Research Challenge is a world-wide competition, held every year, which is organised by the renowned American institute – the Chartered Financial Analysts Institute, which offers university Finance students not only practical guidance, but also an intensive training in financial analysis and the possibility to enter into contact with the largest professional services companies in this sector.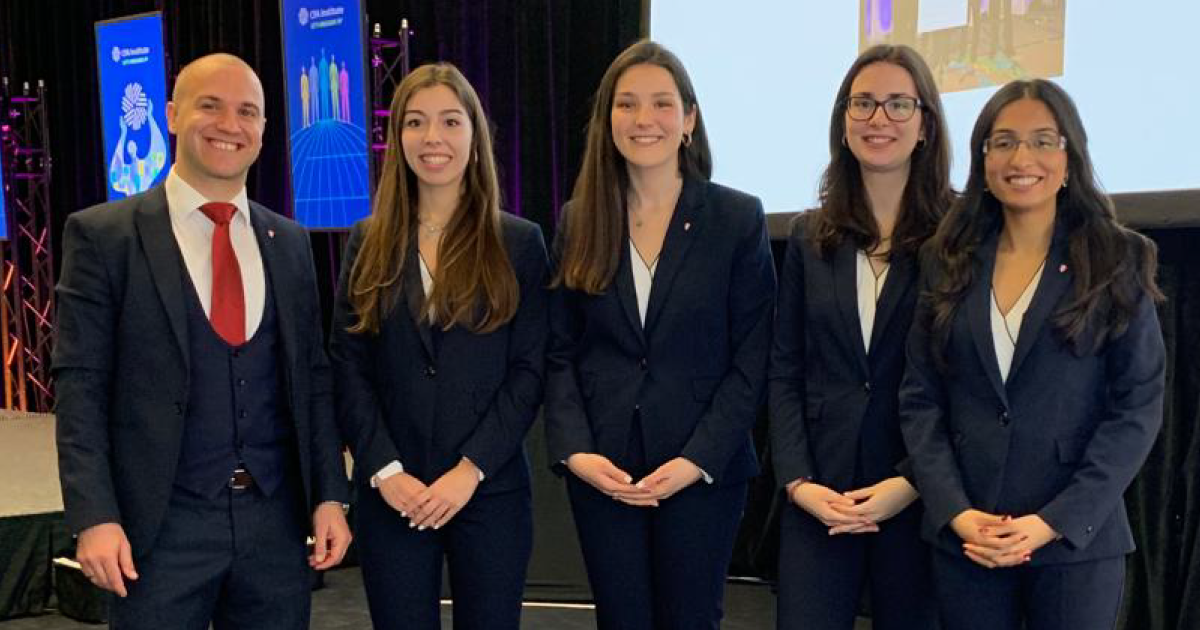 Ana Filipa da Silva Carreira, Carolina Filipa Abreu Freitas, Joana Catarina Sampaio Pina, Joana Jetal Chhotobhai e Zarko Ljubenovic