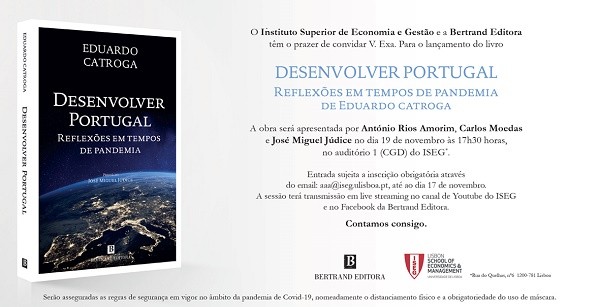 ISEG – Lisbon School of Economics and Management and Bertand Editora have pleasure in inviting you to the launch of the book entitled Developing Portugal:Reflections in Times of Pandemic, by Eduardo Catroga.

The work will be presented by António Rios Amorim, Carlos Moedas, and José Miguel Júdice, on the 19th of November, at 17.30, at ISEG, Auditorium 1(CGD).
Entrance is subject to obligatory prior enrolment by email: aaa@iseg.ulisboa.pt, by the 17th of November. Enrolment now closed.

The event will be streamed live on ISEG's YouTube channel and on the Facebook of Bertand Editora.

The Covid-19 safety rules in force will be ensured – namely physical distancing and the obligatory wearing of face masks.