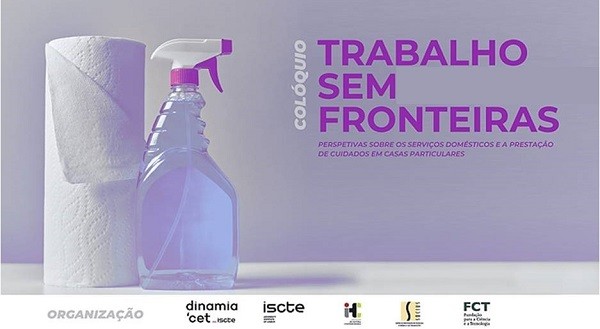 The Colloquium | Work without Frontiers: Perspectives regarding Domestic Services and Care Services (which was previously planned for the 18th and 19th of June) will take place on the 1st and 2nd of October, 2020.

Initially planned as a live colloquium in Lisbon, the event can also be held online, depending on the development of public health conditions.

The intervention of the keynote speaker, Prof. Rosie Cox, will be delivered online. Rosie Cox is a Professor of Geography at Birkbeck – University of London, with reference research on domestic work and care work (further information available here).

Whether the event is held face-to-face or virtual, we hope to be able to count on your participation. The deadline for the receipt of proposals for interventions has been extended until the 31st of July, 2020, to the following email address: trabalho.fronteiras@gmail.com

The aim of this Colloquium is to present theoretical, phenomenological, and ethnographic contributions, among others, which enable us to gain a better understanding of paid domestic work, both in the context of the past and the present, including perspectives on emerging trends.

A Call for Abstracts is made on the following subjects:
– Migration, work, and gender;
– Disqualification, informality, and the value of domestic work;
– Public policies regarding domestic services and the care sector;
– Associations, trade unions, and the collective mobilisation of domestic work;
– Demographic ageing and the care sector;
– Rural/urban opposition for the organisation of care;
– Discrimination and diversity in domestic and care services;
– Narratives and perceptions regarding work, in-house work, corporeal intimacy.

Submission of Abstracts:
> Deadline – the 31st of July, 2020 to: trabalho.fronteiras@gmail.com
> Must be original work;
> Can be published in Portuguese, Spanish, French, or English;
> Maximum length: 300 words.

Further information:
trabalho.fronteiras@gmail.com