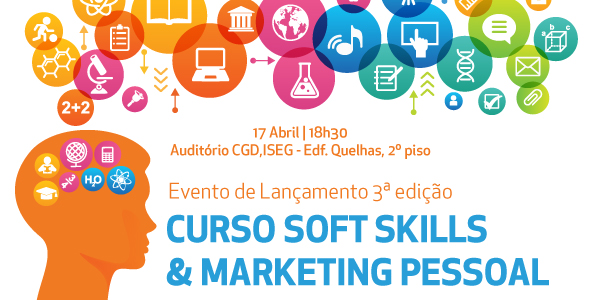 We have pleasure in inviting you to participate in a Workshop – Rethinking Yourself Series#2, which will take place on the17 th of April, at 18h30, in the CGD Auditorium (Ed. Quelhas, 2 nd Floor).

This event is aimed for all professionals who want to stand out in the working world and who want to think about their personal branding, making use of the most innovative methodologies available in the market.

PROGRAMME (pdf)

Free entrance, subject to pre-enrolment on: https://www.eventbrite.pt/o/iseg-lisbon-school-of-economics-amp-management-8235305413 .

Bringing together a group of professors and specialists who have a great deal of practical experience in this field, and by presenting the most modern tools and methodologies, ISEG's Soft Skills & Personal Marketing course, which starts on the 22 nd of May 22, allows professionals to think about the evolution of their career in an integrated way.
For further information about the course, please see our webpage on www.idefe.pt/cursos/ssmp .