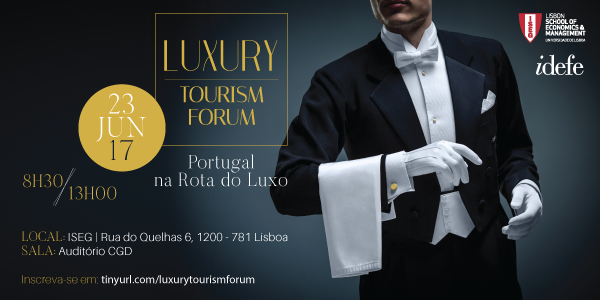 The " Luxury Tourism Forum" will be held at ISEG on the 23 June, as part of the launch of the 1st Edition of the Luxury Tourism Executive Course of ISEG.

The Forum will take place from 08.30 to 13.00, in the CGD Auditorium (Quelhas, 2 nd Floor).

Objectives
To encourage discussion and debate about the Luxury and Premium sector in Tourism.
To debate the trends and challenges facing International Luxury Tourism in Portugal.
PROGRAMME (pdf)
08.30 – Welcome Coffee
09.00 – Opening address – Dra. Helena Amaral Neto, Luxury Executive Course Coordinator of ISEG and Dr. Gilberto Jordan, CEO André Jordan Group
09.20 – Dr. Luis Araújo, Chairman of Turismo de Portugal
09.40 – Dr. Pedro Seabra, Partner at Explorer Investments, Responsible for the Discovery Fund
10.00 – Dra. Cristina Siza Vieira, Chairwoman of the Associação de Hotelaria de Portugal
10.20 – Dr. Jorge Costa, Chairman of the Instituto de Planeamento e Desenvolvimento do Turismo
10.40 – Dr. Carlos Ferreirinha, Chairman of MCF Consultoria, a specialist in Luxury Management, and the key lecturer of the course in Luxury Tourism Management
11.40 – Debate
12.30 – Closing address

Enrolment now open attinyurl.com/luxurytourismforum
Price:
– 250€
– Free for Associates of the partners of the Luxury Tourism Management Executive Course of ISEG (obligatory enrolment on the following linktinyurl.com/luxurytourismforum).
---
Partners for the Luxury Tourism Management Executive Course:
Turismo de Portugal
Publituris
Associação da Hotelaria de Portugal
Associação Portuguesa de Resorts
Conselho Nacional da Indústria do Golfe
Associação Portuguesa das Agências de Viagens e Turismo
---
Free parking available at the ISEG carpark. Entrance via Rua Miguel Lupi.

Further information
Sérgio Pereira | Telephone : (+351) 213 922 716 | Email: sergio.pereira@idefe.pt