ISEG and CESA – Center for African and Development Studies have pleasure in inviting you to the 7th session of the Development Studies Seminars 2022, on "Innovation and Change in Civil Society", with Ana Luísa Silva (CESA/CSG/ISEG/ULisboa) as the keynote speaker.
The event will take place on the 28th of April, from 18.00 to 20.00, and will be in a hybrid format: in-person in Lecture Theatre 23 (ISEG, Francesinhas I) and online via Zoom (this link) and Youtube (this link).
Enrol now here.
Biography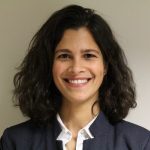 Ana Luísa Silva is an international development researcher and professional, with a background in political science and international relations. She has a Masters in Development Studies from the London School of Economics and Political Science (2009). Between 2009 and 2015, she worked as an NGO project manager for the British NGO Transaid (specialized in transport and development) in Nigeria, Madagascar and Mozambique, implementing innovative solutions to improve transport systems for access to healthcare in remote areas. More recently, she joined the European startup eco-system and organises events to connect investors and innovators who work on greener and more sustainable solutions for those energy, water, waste management, agriculture, transport, and other key sectors that need transformative change for a sustainable future. Since 2017, She returned to academia as a candidate for a PhD in Development Studies at ISEG – Lisbon School of Economics and Management (ISEG/ULisboa). She currently carried out research on how the development cooperation sector supports innovation for sustainable development and how this drive for innovation affects development practices, with a focus on non-governmental development organisations (NGOs).
---
The Development Studies Seminars 2022 are an initiative which have been promoting research since 1991 in the study areas of ISEG's Masters in Development and International Cooperation (MDCI) and PhD in Development Studies (PDED).